Glad to say after two games in the ALCS, the only team I can bring myself to cheer for left in the playoffs is actually winning. Great job by the Tigers and future AL MVP Miguel Cabrera and company to stun the Evil Empire with wins in the Bronx. Can you tell I'm not a Yankees fan?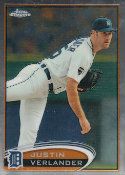 Pack 49
Eric Surkamp RC - Giants
Justin Verlander - Tigers
Cliff Lee - Phillies
Billy Butler - Royals
Pack 50
Kirk Nieuwenhuis RC - Mets
Ian Kinsler - Rangers
Andrelton Simmons RC Refractor - Braves
Starlin Castro - Cubs

Pack 51
Alex Gordon - Royals
Aramis Ramirez - Brewers
Mike Trout X-fractor - Angels
Paul Konerko - White Sox
Pack 52
Alex Rodriguez - Yankees
Ryan Lavarnway Auto - Red Sox
Matt Moore RC - Rays
Robinson Cano - Yankees

Pack 53
Mark Trumbo - Angels
Gio Gonzalez Refractor - Nationals
Shane Victorino - Phillies
Matt Holliday - Cardinals

Pack 54
Cole Hamels - Phillies
Wilin Rosario RC Refractor - Rockies
Mark Buehrle - Marlins
Curtis Granderson - Yankees
I'm sure Tom is ecstatic right now. His first Trout yesterday. Now a Trout X-fractor today, and Trumbo in the next pack. Very nice, Tom. Bet it will never happen again.