On the heels of witnessing the epic disaster that was Cards-Nats Game 5, I don't have much to say that I care repeating on this "family" blog. I mean, really. I digress...time for the second day of Chrome.
Pack 43
Jered Weaver - Angels
Drew Hutchison RC Auto - Blue Jays
Jason Heyward - Braves
Mike Trout - Angels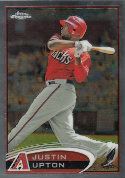 Pack 44
Jhoulys Chacin - Rockies
Justin Upton - Diamondbacks
Jose Reyes Refractor - Marlins
Drew Smyly RC - Tigers

Pack 45
Matt Garza - Cubs
Jacoby Ellsbury X-fractor - Red Sox
Jose Bautista - Blue Jays
Rickie Weeks - Brewers
Pack 46
Torii Hunter - Angels
Tommy Hanson - Braves
Desmond Jennings - Rays
Adrian Cardenas - Cubs

Pack 47
David Wright - Mets
Gio Gonzalez - Nationals
Chris Carpenter Blue 183/199 - Cardinals
Pack 48
Wilin Rosario RC - Rockies
Josh Hamilton - Rangers
Michael Bourn Refractor - Braves
So there you have it. An auto and a blue refractor. Not sure why packs 47 and 48 had only three cards. Packing snafu or something. Overall, pretty great day for The Break!